County Central High School
Class Of 1970
JOIN IN THE VULCAN 100 YEAR CELEBRATION
August 2 - 5
This is a reminder that the event of the century is about to begin this Friday in our small town. Vulcan is celebrating its centennial with a big party and you're invited. As well, the Class of 1070 will convene at the Beer Garden at 4pm on Saturday. Bring you're stories and your camera and join old friends in celebrating Vulcan's birthday.
You are Invited!
TO JOIN OTHER MEMBERS OF THE CLASS OF 1970
ON A TRIP TO...
AFRICA
If you've always wanted to visit Africa, then join others from the Class of 1970 in this adventure packed trip scheduled for November, 2013. Charlotte provided the information and will be one of those heading to the dark continent next year. For details contact: Laurie Umscheid, Vulcan Vacations. Phone # 403.485.2882 or toll free: 1.800.567.2065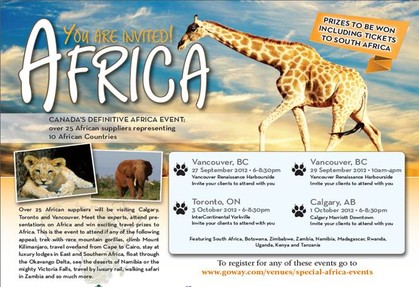 VULCAN CELEBRATES 100TH BIRTHDAY
AUGUST, 2013
The town of Vulcan was incorporated in January, 1913 and to commenorate the town's 100th anniversary, Vulcan is throwing a party.
From August 2nd to the 5th, there will be parades, a chatacqua tent, dances, beer gardens, children's events, historical exhibits, baseball and golf tournaments and much more.
We thought it was the perfect opportunity for everyone to get together again, in a informal way, knowing that there will be lots to do, or not, as you like. So mark off the August long weekend 2013 and we'll keep you posted as to plans. For information about the anniversary celebration go to... www.vulcan100.com ...
As a fund raising event for the celebration (yes, parties cost money) the town is holding a live and silent auction on October 18th, 2012. If you have anything you would like to contribute please let Sandra Haga Scott know and we'll arrange to secure it. Volunteers are also welcome. We'll be keeping you updated on this event as well.
See you in Vulcan!
A CLOSER LOOK.......CLASSMATE PROFILES
Enjoy the following profiles and watch for a new one every month.
DON BACH
A Man Happy In His Own Skin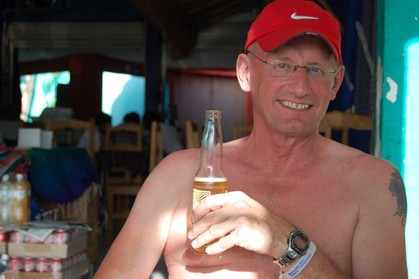 Whether drinking a cervasa in Mexico or shooting a birdie on the fairways of BC, Don Bach has alot to be proud of and even more to look forward to.
Q: Favourite music, food, book and movie:
A: Music: I have every record Lyle Lovett ever made, seen him play twice. Pretty keen on Annie Lennox too. Starting to have an appreciation for Flamenco.
Food: Cheese, almost any kind of smoked or slow-cooked meat.
Book: A very obscure science fiction novel called Geta and most books by Mark Helprin.
Movies: Blade Runner/Shipping News.
Q:
The place you would most like to visit:
A:
Place to go back to-Paris. Loved it, loved it, loved it.
Canadian city I love-Toronto
Place I have not been yet-Bangkok. I want to go to a place where "anything" is possible. Not to do "anything" but just to be around that kind of crazy for a while.
Place I wish I had been to when I was in my 20s instead of my 50s-Amsterdam.
Places I think I might love when I get there, but don't want to be disappointed by-Florence, Venice, Istanbul
Q:
The name of one person you greatly admire from afar (don't actually know) and why:
A:
Pierre Trudeau – There was lots of stuff he did that I didn't agree with, but he was a real leader who really believed in this country and its people. Since him it has just been a bunch of guys who thought they were running a business.
Q:
Your high school nickname:
A:
The only nickname I can remember from then is one Peter Koziol used to call me occasionally-"Kraut." No one else ever called me that, but any other nicknames have slipped away with the other dead brain cells.
Q:
What would you like your tombstone to read:
Q:
Tell us 2 lies and one truth:
A:
I was adopted. A year after I was given up, my birth parents married and had 4 more children. They were from Ontario, but in 1969 moved to Lethbridge, not knowing I was living just down the road. I discover them in 2009.
I finished the first 3 years of an Engineering degree at U of A in Edmonton, but when my Dad got sick I came back to the farm in Champion and never finished.
I love the water and usually swim about a mile 4 mornings a week at the Y before I head in to work.
Q:
Tell us something no one (or almost no one) in our class would know about you:
A:
I am an enthusiastic and creative cook. I have been the primary cook in my house for over 20 years, regardless of who I was living with at the time.
A:
I have been writing for pleasure and professionally for many years but have never been able to generate enough focus for long enough to finish a novel.
Shawna. (No, I'm not going to explain this. Ever…)
Q:
Your most memorable moment:
A:
When my oldest daughter was about 20 minutes old, she opened her eyes for the first time. I was holding her and she looked into my baby blues with her baby blues. That has kind of stuck with me! When I first looked into the baby blues of her daughter, that moment bloomed for me again.
Q:
What do you hope the next 20 years holds:
A:
Finish a novel, improve my painting skills, enjoy the people around me, see the rest of the world.
Q:
The person who most greatly influenced your life:
A:
My junior high buddy from Champion, Neil Gallaiford. He has been a constant, close friend in my life for over 40 years. We have LOTS of memories together. Sometimes we led each other astray, but we could always count on each other to find the way back again.
Q:
Three personal things you would put into a time capsule:
A:
I looked around me after I read this question. It's all just stuff…..if I put it in a time capsule it will just be older stuff. I would put some memories in it if I could.
Q:
Do you consider yourself a romantic (and why or why not)
A:
Total romantic. Always was. Always will be. Always believed the best about people-that has bit me on the ass more than once!
Q:
Would you like the next class reunion in 5 or 10 years:
A:
The sooner the better. Before I forget any more of the stories from the old days and because I missed the last 2 reunions, both of which I wanted to attend.
Q:
What was your worst experience:
A:
A health scare I had a few years ago that could have ended badly for me. Prefer not to do that again, although it probably improved my overall outlook on the rest of my life.
Being bullied on the school bus in grade one.
Also, some of the social parts of high school! J
Q:
What one thing you own would you not give up if you needed to sell everything to raise money:
A:
I have a picture on my wall that hung on the wall of the farm house in Champion from the time I was a kid until my Mom moved out of the house about 40 years later. It is my connection to a safe, warm spot in my life. It's not even that good a picture, but it still has magic in it for me.
Q:
Favourite body part and least favourite body part:
A:
My blue eyes have always served me well.
I usually talk about how much time and money I save not having to worry about hair...I want it back!
Q:
One thing you vividly remember about your life in Vulcan:
A:
The social part of high school still seems to me to have been an elaborate dance that I never quite learned all the steps to. However, there were some great people there. Many of them are still my friends.
Don with daughters Emily and Kelly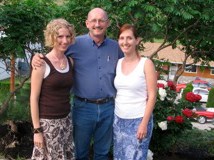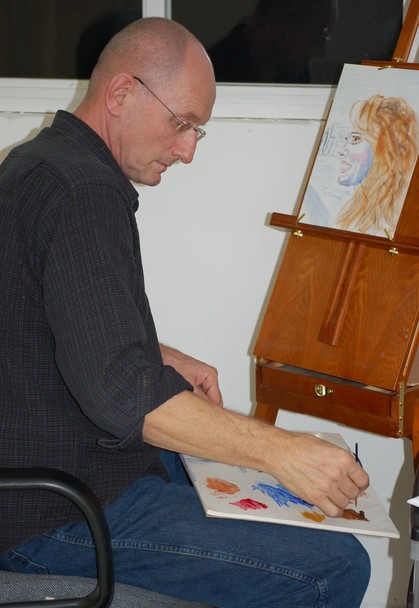 A passion for painting, writing and adventure has defined Don's life.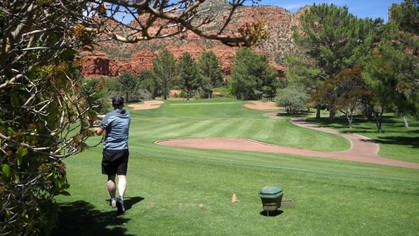 Playing golf in Sedona, CA
On a road trip in Oregon
There's Just Something About A Man In Uniform
OUR JACK CARLSON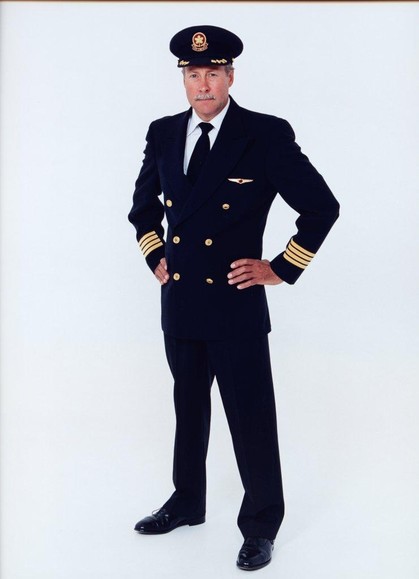 He'll have something to say to us when he sees we put this picture front and centre, but what he doesn't realize is that we're all very proud of Jack, and feel privileged to know him. So suck it up Jack...and keep on flying!
A. I am a "Rock and Roll", "Country Rock" kind of guy: everything from Led Zeppelin to Blue Rodeo. As I learn more of their songs, I am developing a greater appreciation for the Beatles, especially George Harrison. As a guitar player, I think he was highly under-rated.
A. I love all food, but if I have to make a choice, it would be Italian.
Buy the way, Marj Knive makes Risotto from scratch that is good as or better than any you will find in Italy!
A. "Fate is the Hunter" by Earnest K. Gann
Although somewhat dated, still one of the best books on aviation.
Q. The place I would most like to visit
A. I would like to have been one of the 12 Apollo astronauts who walked on the moon. A lunar landing would look good in the log book!
Q. Name of a person I admire but don't actually know
A. Living or dead? Living: Rick Hansen. Met him…don't "know" him. Had him on a flight to Ottawa, on his way to receive the Order of Canada.Dead: Terry Fox. My Lufthansa pilot friend, Hary, has two daughters who run in the "Terry Fox" run at their school in Germany.
A. Don't think I had one. When I was flying floats in northern Saskatchewan, my call sign was "Snake". For more on that, talk to Greg Scott.
A. I don't plan on having one, not that I expect to live forever! If I did "RIP"
Q. Two lies and one truth.
A. 1. Penny (the lady formerly known as my wife) and I used to spend a few weekends each summer travelling around B.C. making a mini vacation out of a triathlon. We would travel to the venue, have dinner on the Saturday night and on Sunday I would do the race. In 1997 we were in the Okanogan for the Penticton Peach Triathlon which happened to be a national team qualifier. I'm not sure if was the Saturday night Martini's or not, but I had a great race on Sunday and finished third in my age group. Six months later I was at the World Championships in Perth, Australia.
2. I was on a lay-over in London a few years ago, having a morning coffee at the Starbucks in St. John's Wood. I was sitting outside, enjoying the spring weather, when Paul McCartney and Heather Mills came by and asked if I would share my table. Sir Paul's house is within walking distance of our London lay-over hotel as is Abbey Road Studios.
3. Penny (see #1) and I had just taken the overnight train from Aswan to Cairo, arriving in Cairo around 5:00 am. After dropping our bags at the hotel, we rushed out to the Giza plateau, which, due to the early hour, was deserted except for security guards. 50$ U.S. was sufficient incentive for the guard to look the other way as we scrambled to the top of the great Pyramid of Khufu for an unforgettable sunrise.
Q. Something about me that no one in the class would know
A. When I go on vacation...I prefer to drive.
A. I regret that I have not become fluent in another language, yet!
Good moment: watching my daughter win a swimming gold medal at the B.C. summer games.
Bad moment: sitting with same daughter in an Australian pub watching 767s being flown into the twin towers of the World Trade Centre.
Q. What I hope for the next 20 years
A. I hope that our children and grandchildren have the opportunities and quality of life that we have had.
Q. Greatest disappointment
A. Not getting a chance to fly fighters in the military.
Q. The person who most greatly influenced my life
A. Bob Edwards...retired Air Force General who managed Chinook Jet Charter. He gave me a Learjet to fly.
Q. 3 personal things I would put in a time capsule
A. The Martin guitar I got from Ian Kerr, my beat up old ice axe, and a good bottle of wine, say a Burrowing Owl Cab Franc
A. No...I don't have a Blackberry, a Blueberry, or for that matter, any kind of berry.
Q. Would I like the next class reunion in 5 or 10 years
A. 5 years...I laughed until I cried...can't wait to do it again.
A. Helplessly watching two good friends succumb to cancer.
Q. One thing I would not give up if I needed to sell everything
A. See "time capsule" above...I play that old Martin 6 string just about every day.
Q. Favourite body part and least favourite body part.
Q. Can I set the clock on my VCR
A. I traded my VCR for a PVR just after I got *DFR'd by Penny. (again see #1 above)
The PVR's clock is automatic.
*Down the Frigging Road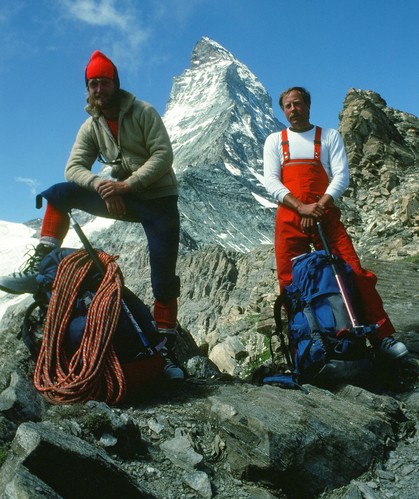 With daughter Jayme, Cayman Islands, April 2002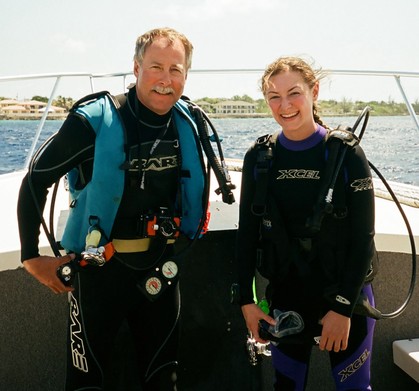 Jack and Penny at their cabin in the Cariboo, August 1995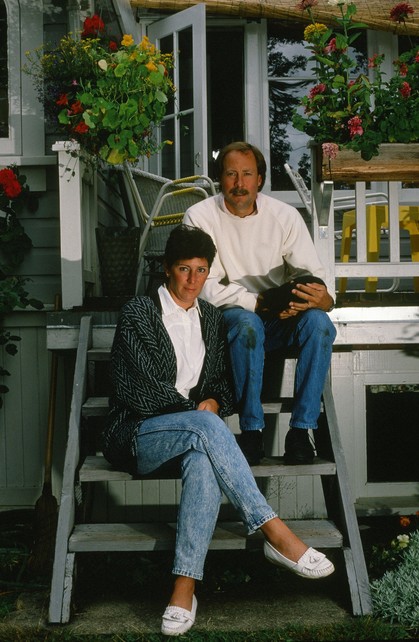 PAST PROFILES
LIFE IN THE SADDLE
BOB PRIEBE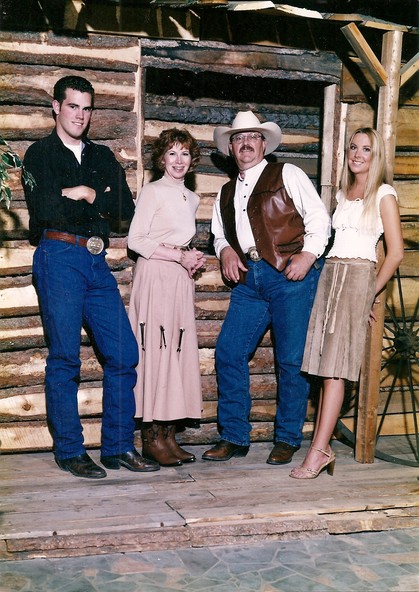 Riding high in the saddle is a term that applies to a man happy with his life, himself and those who surround him. What better description could there be for the man who so humourously and candidly answered our Classmates Questionnaire.
Read on...but be prepared to be surprised and entertained!
---
Q: Favourite music, food and book
A: Music: Southern Gospel, Country
Food: Beef (steak & roast)
Book: While I read lots of articles in newspapers and magazines, I read about one book every 10 years

Q: The place you most like to visit
A: Camping road trip to all the saddle shops & historic sites throughout Montana, Wyoming, Idaho & Colorado. While I've been to all these states and holidayed at Sandpoint, Idaho for 13 years running in the 70', 80's, and early 90's I've not spent much time involving the western lifestyle.

Q: One person you greatly admire from afar
A: Mother Theresa. For the sacrifices she made throughout her life in order to help others

Q: What was your high school nickname
A: While I've been called many names over the years I never had a nickname in high school THAT I WAS AWARE OF. My current nickname since owning the Balzac General Store (1996) is Balzac Bob.

Q: What would you like your tombstone to read
A: For the most part 'Bob has lived his dreams'

Q: Tell us 2 lies and one truth and we'll figure out which is true
A: (a) During the filming of "Legends of the Fall" John Scott from Longview, who I know fairly well, was in charge of horse wrangling and stunt work. As Julia Armond (lead actress) was not a very accomplished rider he requested that I take her trail riding when she wasn't required on set and provide her with some riding instruction.
(b) During the late 90's our store was used as a location for the movie "In Cold Blood" starring Eric Roberts, Anthony Edwards and Virginia Madsen. We all hit it off quite well and they loved to spend their down time relaxing at our farm.
(c) Global Television referred to the Balzac General Store as their Studio North and were there doing live news stories and interviews on many occasions. Early in the 00's Kevin Newman of Global National News spent 2 days with us on a cross country tour with their Bus. The National News was broadcast live from my Saddle Shop and I was interviewed regarding the state of the economy in Alberta and my opinions on the various federal parties.

Q: Tell us something no one (or almost no one) would know about you
A: I've always had an appreciation for leather (not whips, boot & the dominatrix outfits most of you probably think of right away). Approximately 5 years ago, myself, my son and a long-time saddle maker started a strap good manufacturing business building harness leather reins, cowboy headstalls, and smaller strap goods. The business is called Purdy Punchy Saddlery & Tack and we also designed saddle pads that we had handmade by local craftsmen in Ecuador using their 400 plus year traditions. I have a fully equipped leather shop in my barn where these products are crafted.

Q: Your biggest regret
A: Not winning the lottery - working for a living is overrated!!

Q: Your most memorable moment
A: For the past 6 or 7 years I have been a casual range rider on a 64,000 acres grazing lease starting 12 miles west of Turner Valley to the base of the mountains and 10 miles north and south. Four years ago we were separating the bulls and driving them back to cow camp, it had been raining and snowing hard for several days, and one of the wranglers and myself were trailing the last bull from south of the Sheep River headed to cow camp 2 hours NE of the river. We were having a tough time getting the bull to cross the river. We were finally successful in crossing the river but as soon as we hit land the bull took off up the river bank headed in the opposite direction. I was able to get up the bank and turn the bull back in the direction of cow camp but as I worked my way back down the bank gave away and both myself and my horse ended up at the bottom, both on our sides. My horse got back on his feet and came over beside me and I had to use the stirrup to lift myself up. While I was in a LOT of pain I managed to get back into the saddle, trail the bull back to cow camp, unsaddle and load my horse in the trailer and drive home. The next day I found out I had 5 broken ribs. If I'd only landed on my HEAD I would have been OK!!

Q: What do you hope the next 20 years holds
A: Good health and more grandchildren to enjoy. We intend to sell our Balzac property in the near future as development is quickly closing in on us and relocate somewhere in central Alberta on a 1/4 section.

Q: Your greatest disappointment or regret
A: Not selling the store, gas station, diner, post office earlier and relocating and expanding the Tack Shop.

Q: The person who most greatly influenced your life
A: This would have to be my parents whom I credit for instilling in me my moral values, work ethic and the dynamics of a strong, happy family environment

Q: Three things you would put into a time capsule
A: I was born 100 years too late and if that time capsule could go back in time I'd put myself in it.
In a time capsule going forward I would like to include: a record of my life's dreams, wishes, goals and thoughts that should be passed on to my grandchildren and great grandchildren.

Q: Do you tweet (or just toot)
A: I don't tweet as I'm really not that computer friendly and as I'm generally at no loss of things to do the toots pretty much have to happen on the go

Q: Would you like the next class reunion in 5 or 10 years
A: 5 years. As I look back at what has happened in the past 40 years we have all aged to the point where we have more years behind us than ahead of us and we should enjoy reminiscing on a more regular basis.

Q: What was your worst experience
A: Summer of 2008 we were camping and trail riding at the Bar 75 Ranch west of Sundre with family and friends over a 10 day period. On one of these days there was only myself, my wife Shirley, and our good friend Joan at camp. We decided to take a ride along the river as we'd taken this trail recently. We took our dogs along. I was riding a young horse for a friend that needed miles and all was going well until I heard a dog yelp. I rode ahead around the bushes to see a sow bear 30 ft. away, mouth wide open chasing one of the dogs back towards me. Luckily this young horse handled it very well and stood his ground at which time the bear turned around and headed back to the tree where I saw 3 of her cubs. I told Shirley & Joan to turn around slowly and ride away at a walk. Joan had seen a bear running fast parallel to us obviously in pursuit of our chocolate lab. On the way back to camp we called our dog but he never rejoined us and while no words were spoken we all began to think that the yelp was his and he'd been killed by the bear. We were very relieved when we returned to camp found our dog lying panting under the truck.

Q: What one thing you own would you not give up if you needed to sell everything to raise money
A: My handmade wade tree saddle made by my friend and business partner

Q: Favourite body part and least favourite body party
A: I didn't know if I was being asked if I was a leg man or a breast man. I'm an equal opportunity kind of guy - they're both great. My ears are probably my favourite body part as they've survived this long especially my left ear which has been screwed more times than I can count. My least favourite is my executive cut girth developed over many years spent as a desk jockey.

Q: Honestly now, could you ever set the clock on your VCR
A: While I am not and have no interest in techy stuff or reading manuals I was able to set the clock on the VCR
Be sure to check out Bob's updated class profile for more great photos.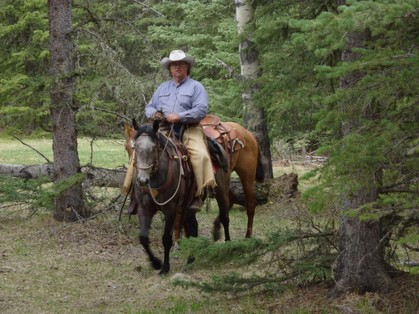 ---
CLASSMATE PROFILE
LYNN SCOBIE JORDAN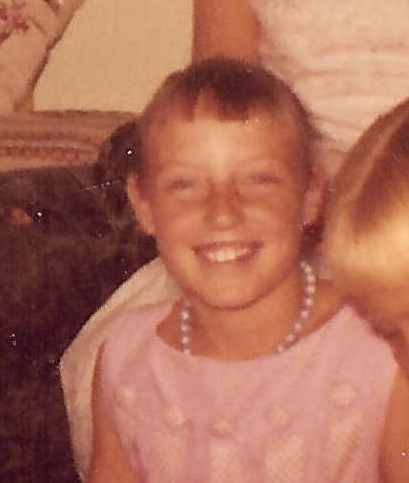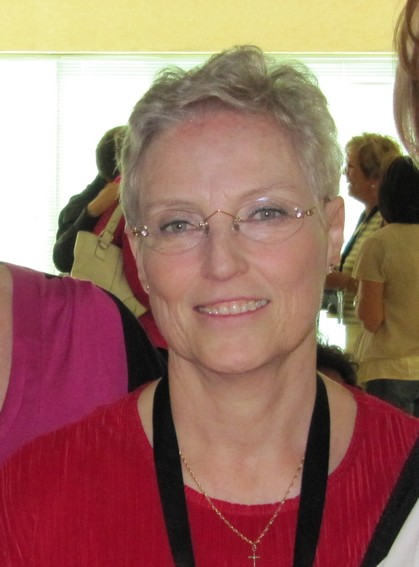 She certainly hasn't lost that magical smile and anyone who spent time with her during the reunion will confirm she still has a jubilant attitude toward life. Lynn Scobie Jordan made and still makes a room light up when she enters and I know we're all glad she's had a life she can be proud of. But here are just a few things you might not know about Lynn.
Q: Favourite music, food, book.
A: Rock & Roll - 70's & 80's, steak and salad, Sudoku books - especially the Extreme and Jigsaw Puzzles.
Q: The place you would most like to visit.
A: The Maritimes on the motorcycle would be wonderful!
Q: The name of one person you greatly admire from afar and why.
A: I can't think of just one person but I admire those who care for the well-being of others and take the time to help make their life happier.
Q: Your high school nickname.
A: Scooby Doo - named by Rick Geschwendt in homeroom in Grade 10.
Q: What would you like your tombstone to read.
Q: Tell us 2 lies and one truth (you figure out which is which).
A: I like to quilt in my spare time. I like to make scrapbooks of all our motorcycle trips. I like ketchup on French Toast.
Q: Tell us something no one (or almost no one) in class would know about you.
A: When we moved to Weyburn, Sask., they weren't hiring Nurses so I took a Teacher's Aide Course. I really enjoyed this but we moved back to Alberta before I got a chance to use it.
A: Not spending more time with family and friends when they were still with us.
Q: Your most memorable moment.
A: Telling our family and friends of our engagement on the day of my RN Graduation.
Q: What do you hope the next 20 years holds.
A: Lots of miles travelled on our motorcycle and time spent camping in the hills.
Q: Your greatest disappointment or regret.
A: That our Dads didn't live to see our children and grandchildren as they have grown up.
Q: The person who most greatly influenced your life.
A: My Mom. She was a very kind, down-to-earth, thoughtful and strong woman who always put others first and was a friend to a great many people of all ages.
Q: Three personal things you would put into a time capsule.
A: A Sudoku Book, a family photo album, a cross-stitch of the Serenity Prayer.
Q: Do you Tweet (or just toot).
A: No, I'd rather phone- a novel idea!- getting to talk to someone in person!
Q: Would you like the next class reunion in 5 or 10 years
A: 5 years- it is great to get together!
Q: What was your worst experience.
A: My second knee replacement. It was 8 weeks of constant, awful pain that I had to exercise through. But now it is much better and I am glad I had the surgery.
Q: What one thing you own would you not give up if you needed to sell everything to raise money.
A: My piano. It was given to us in 1978 by my Grandma Scobie. She had bought it in 1927 with a $500.00 Victory Bond given to her by her Mother.
Q: Favourite body part and least favourite body part.
A: My eyes and my waistline!
Q: Honestly now, could you ever set the clock on your VCR
A: Yes - I couldn't stand the flashing light!
Unfortunately, classmates can upload photos but not written copy so please send to Roy, Eleanor or Sandi if you wish to contribute to any of our active pages (PLEASE!)
KEEP IN TOUCH
SEND US AN EMAIL
Climbing the Matterhorn with Mike Kaiser August 1985
---